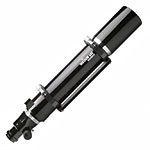 Skywatcher Equinox 100 APO PRO OTAPlease Contact Us
"I am immensely impressed by this telescope, both for it's optical quality and it's mounting (EQ5 SynScan); it will allow the observer to carry out work to a professional standard. I admit to being both a planetary observer and a lover of refractors, and I cannot think that many will disagree with me." Sir Patrick Moore - BBC Sky @ Night


Skywatcher Equinox 66 APO PRO OTAPlease Contact Us
The Equinox 66 is well suited to birding, nature study and/or astrophotography. Its fast optics and generous field of view also make it an ideal instrument for studying larger clusters and star fields.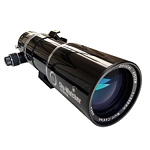 Skywatcher Equinox 80 APO PRO OTA£520.00
Latest model, includes shoe for finderscope.
The new f/6.25 Equinox 80 features Ohara FPL-53 fluorite glass housed in a superbly engineered tube-assembly with a dual-speed silky-smooth rotatable Crayford focuser.