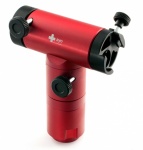 AOKswiss AYO II Alt-Az Mount£409.00
New, upgraded AYO II Alt-Az mount from AOKswiss.
This is the mount others want to be when they are grown up :-)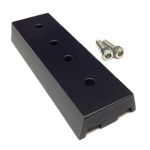 FLO Skywatcher ST80 Dovetail£22.00
This solid CNC-machined black-anodised dovetail mounting bar has countersunk holes spaced specifically for the Startravel-80, and is supplied with the necessary M6 bolts.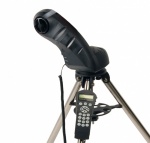 Sky-Watcher Star Discovery AZ Goto Mount£264.00
The new Sky-Watcher Star Discovery mount is an upgraded version of the AZ Go-To mount and features FreedomFind™ dual encoder technology.
Accepts telescopes fitted with a regular Skywatcher/Celestron/Vixen-style dovetail bar.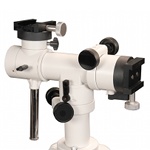 SkyTee-2 Alt-azimuth mountFrom: £265.00
The Skytee-2 is a heavy duty alt-azimuth mount with two Skywatcher/Vixen type dovetail saddles enabling two telescopes weighing up to 15Kg each to be mounted together.
Available with or without Sky-Watcher 1.75" stainless steel tripod (the same tripod supplied with EQ5 and HEQ5 Equatorial mounts).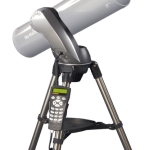 Skywatcher AZ GOTO mount£209.00
The Skywatcher SynScan Alt-Azimuth GoTo Mount allows you to easily find and observe planets, nebulae, star clusters, galaxies and more. With the easy to use SynScan hand control you can point your telescope at a specific object, or tour the night sky at the touch of a button!
Accepts telescopes fitted with a regular Skywatcher/Celestron/Vixen-style dovetail bar.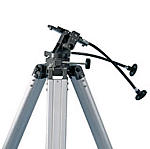 Skywatcher AZ3 Alt-Az mount£99.00
Alt Azimuth mount.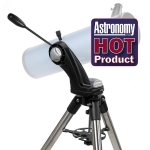 Skywatcher AZ4 Alt-Az Mount with Steel Tripod£174.00
"... the AZ4 does feel reassuringly solid. There are easy to grip friction clutches on both axes and there's a stout, 29cm-long panning handle that may be screwed into one of two ergonomically sited points separated by a 90-degree angle for additional control." Ade Ashford - Astronomy Now, Dec 08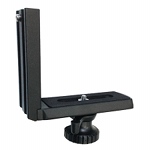 Skywatcher L-Bracket Dovetail£19.90
The Skywatcher L-Bracket dovetail is a useful accessory for mounting telescopes, spotting-scopes and binoculars to mounts such as the Vixen Mini Porta and Porta II, Skywatcher AZ-4, Supatrak and AZ Synscan Goto and Celestron SLT and SE series mounts.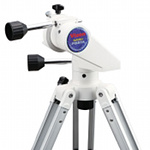 Vixen Mini Porta£199.00
Essentially a smaller version of the Porta II with a lighter 3.5 kg (7.7 lb) payload capacity but the same precision 120-tooth whole-circle gear mechanism.
Perfect for grab-and-go astronomy and terrestrial observation.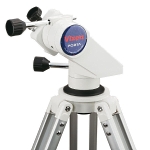 Vixen Porta II Mount£329.00
The Vixen Porta II, is a solid alt-azimuth mount with a 6.8kg (15lb) payload capacity that is perfect for grab-and-go astronomy.