Borg Telescopes UK Joint Venture
Wednesday, 24 October 2012 | Admin
First Light Optics and Ian King Imaging have joined forces to supply, promote and support Borg telescopes and accessories here in the UK.
This is a joint venture in every sense of the word. We will work together to ensure stock is held in the UK and Borg owners are properly supported, because anything less would not do you or the brand justice.
Borg is a Japanese telescope manufacturer best known for their high performance refractors for astrophotography. They are not like regular telescopes. The Borg system is modular, you buy a series of components then assemble them. A bit like Astro Lego! Initially we shall concentrate on the Borg 'sets' but we shall also work our way through the various adapters, accessories and configurations (James has actually parted with his beloved FLT98 to use a Borg 77ED-II for imaging!).
Most Borg instruments can be supplied and configured to cover full format 35mm sensors at super fast focal ratios as fast as F3.9.
the modular nature of their design enables the telescopes to be easily broken down into individual components for transport. This and their light weight make Borg telescopes an excellent choice for airline friendly high quality astrophotography.
The following Borg sets are already in stock for 2-3 day delivery.

We will be adding many other Borg telescopes and accessories over the coming days.
Resistance is futile!

Sorry... Couldn't resist
James' Borg 77EDII at the SGL7 Star Party.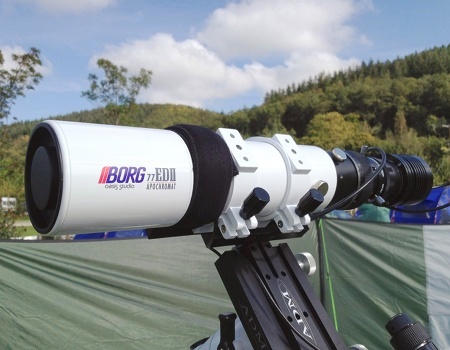 Steve