New Lunt 50mm Solar Scope Announced
22 April 2014
Lunt have announced a new 50mm pressure tuned HA solar scope - the LS50THa. For pricing and availability, please see our LS50THa product page. The press release from Lunt can be seen below: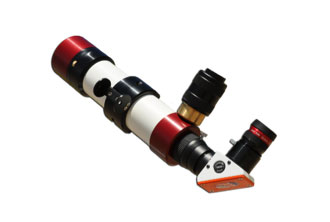 Lunt Solar Systems is excited to announce our new 50mm Pressure Tuned dedicated Hydrogen-alpha telescope, the LS50THa!
The LS50T is a refractor-based system with a 50mm aperture and an internal-mounted etalon with Pressure Tuner adjustment. This system allows for a <0.75 Angstrom band pass.
Specifications: (single stacked)
Type: Single Interference Etalon
Tuning: Internal Pressure Tune (Doppler True Tuning)
Aperture: 50mm
Focal Length: 350mm
F Ratio: F7
Bandpass: <0.75 Angstroms @ 656nm
Focuser: Helical Focuser
Mounting: Integrated clamshell style with 1/4-20 tapped base
Color: Pearl White with Black and Red accents
Diagonal: B400 Blocking Filter (standard) or B600 Blocking Filter (upgrade)
Skill level: Beginner on up
Shipments to begin in June, 2014