NEW Lynx FTDI EQDIR Adapter
25 October 2016 | Steve
We have released two new Lynx Astro EQDIR USB adapters with FTDI chipsets for reliable performance across all versions of Windows. Each cable has a unique chipset ID so when you unplug the adapter then plug it back into the same computer, even if on a different physical USB port, the COM port number remains the same.
We have also specified higher quality plugs. I.e. the RJ45 plug has a nice rubber cowl that prevents it snagging and the DSUB plug has thumbscrews so is easy to secure. The point where the cable fits the plugs is also well designed (no gaps) to prevent moisture entering the plugs.
Lynx Astro EQDIR USB adapters are manufactured for us in the UK, to our specification, and to ensure they are all 100% AOK we quality control each and every one at our premises prior to dispatch.
You can buy with confidence
Lynx Astro FTDI EQDIR USB Adapter for Sky-Watcher EQ5 PRO, HEQ5 Syntrek & PRO, AZ EQ5-GT, AZ EQ6-GT and EQ8 Mounts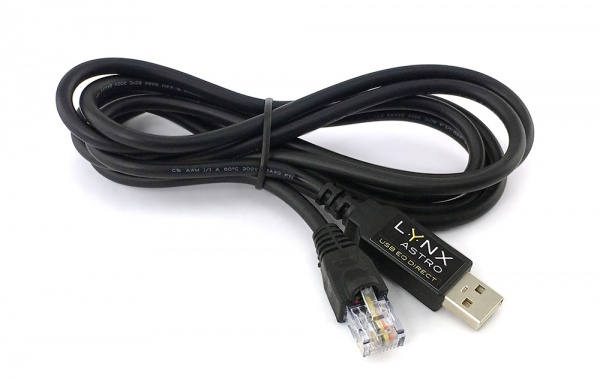 Lynx Astro FTDI EQDIR USB Adapter for Sky-Watcher EQ6 or NEQ6 Syntrek & PRO Mounts