Skywatcher HEQ5 v HEQ5 Syntrek v HEQ5 PRO
2 Comments
Thursday, 5 July 2012 |
Admin
A quick reminder of the differences between the three versions of this popular Skywatcher mount.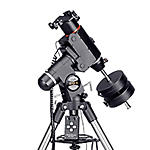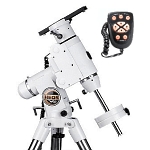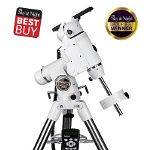 Skywatcher HEQ5
Features built-in motors, a polarscope and manual handset.
Best suited to visual astronomy
.
Skywatcher HEQ5 Syntrek
Adds higher quality stepper motors and a new mother-board and ST-4 autoguiding port for astrophotography.
Skywatcher HEQ5 PRO
As HEQ5 Syntrek but supplied with a Synscan GOTO handset, not the manual handset.
The regular HEQ5 can be upgraded to full PRO spec using the optional Synscan PRO GOTO Upgrade kit.
If you plug a
Synscan GOTO handset
into a HEQ5 Syntrek it becomes a HEQ5 PRO.
The Syntrek and PRO models can be controlled via a laptop using the popular
EQMOD software
.
Hope that helps.