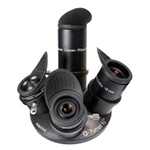 Baader Q Turret£42.00
The Baader Q Turret is an ingenious system that allows you to mount four 1.25" eyepieces then simply rotate them to select your magnification.
Can also be used to mount a mix of eyepieces, barlow, camera, etc.
Vixen HR Planetary Eyepieces£249.00
New 3.4mm Due Mid/Late-June
Specifically designed for the observation of fine details on the surface of the planets and the moon.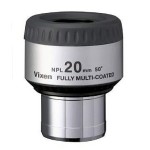 Vixen NPL EyepiecesFrom: £34.00
The 2-group 4-element Plossl design of Vixen's NPL Series delivers bright, sharp views with high contrast and good colour correction. The 20mm, 25mm, 30mm and 40mm models feature twist-up eyecups. All have fully-multi-coated optics. Affordable eyepieces that offer a noticeable improvement over generic Plossls supplied with most telescopes.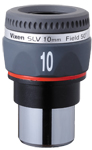 Vixen SLV Eyepieces£99.00
The new Vixen SLV series are premium quality eyepieces with high-grade fully multi-coated Lanthanum glass for bright, high contrast views.
Seven elements in four groups with 20mm eye-relief.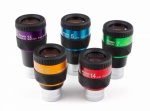 Vixen SSW 83° Eyepieces£245.00
"The Vixen SSW eyepieces produce excellent views and their build quality is beyond reproach, making them an excellent choice for intermediate to advanced observers, but beginners may struggle with eye placement." Steve Richards writing for 'BBC Sky at Night' magazine May 2016.