Clear Outside - New Kit Paradox
We have been putting 'May Contain Clouds' warning stickers on our boxes for some time. It started as a bit of fun but surprisingly our research consistently shows the warning is necessary! There is a clear correlation between buying new astronomy kit and cloud cover. We shall call it the 'New Kit Paradox'.
Research Results
Here are the results of our year long research cross referencing sales data with Clear Outside forecasts.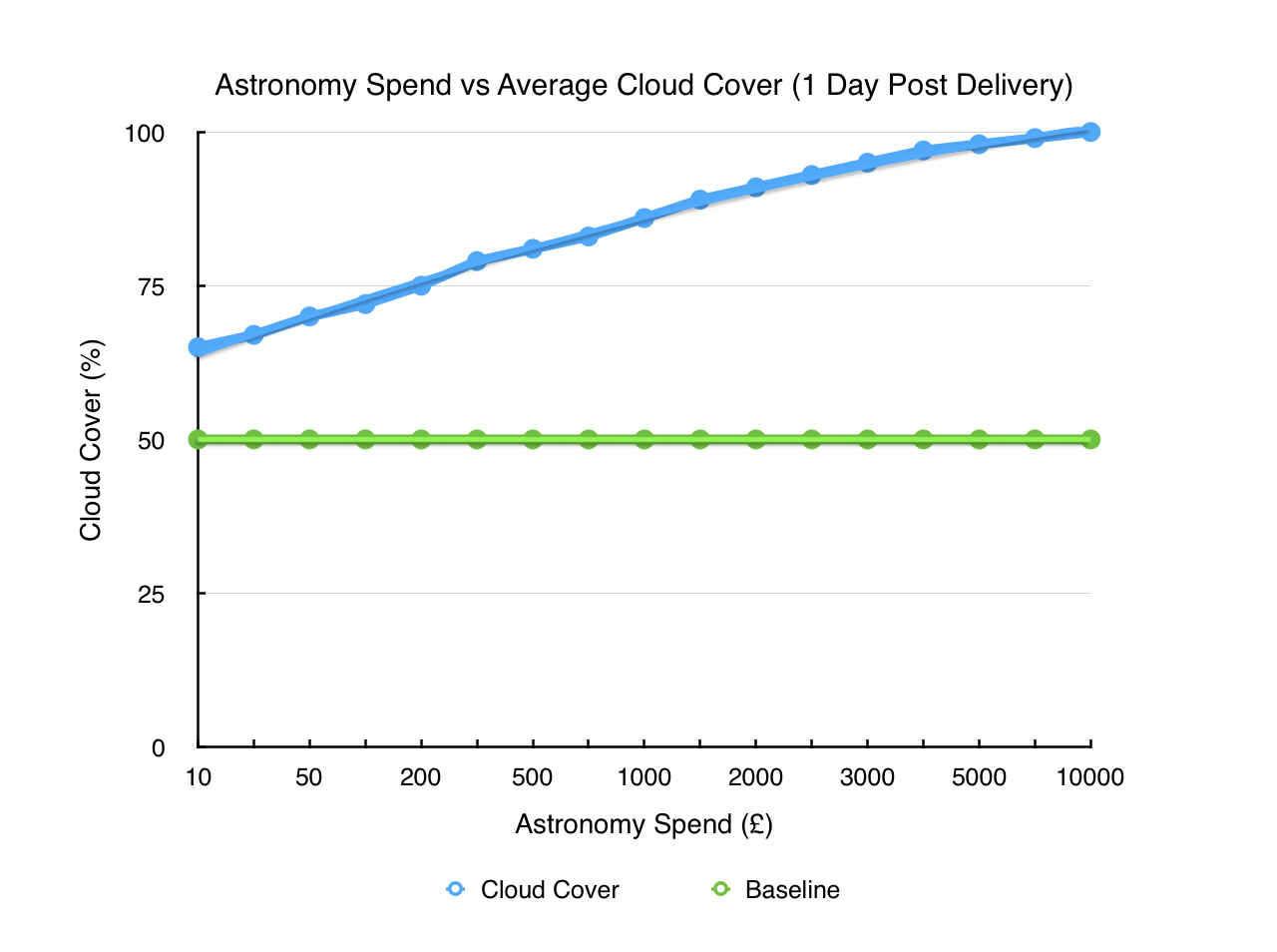 The affect diminishes over time following a 48 hour half-life pattern until cloud cover returns to baseline.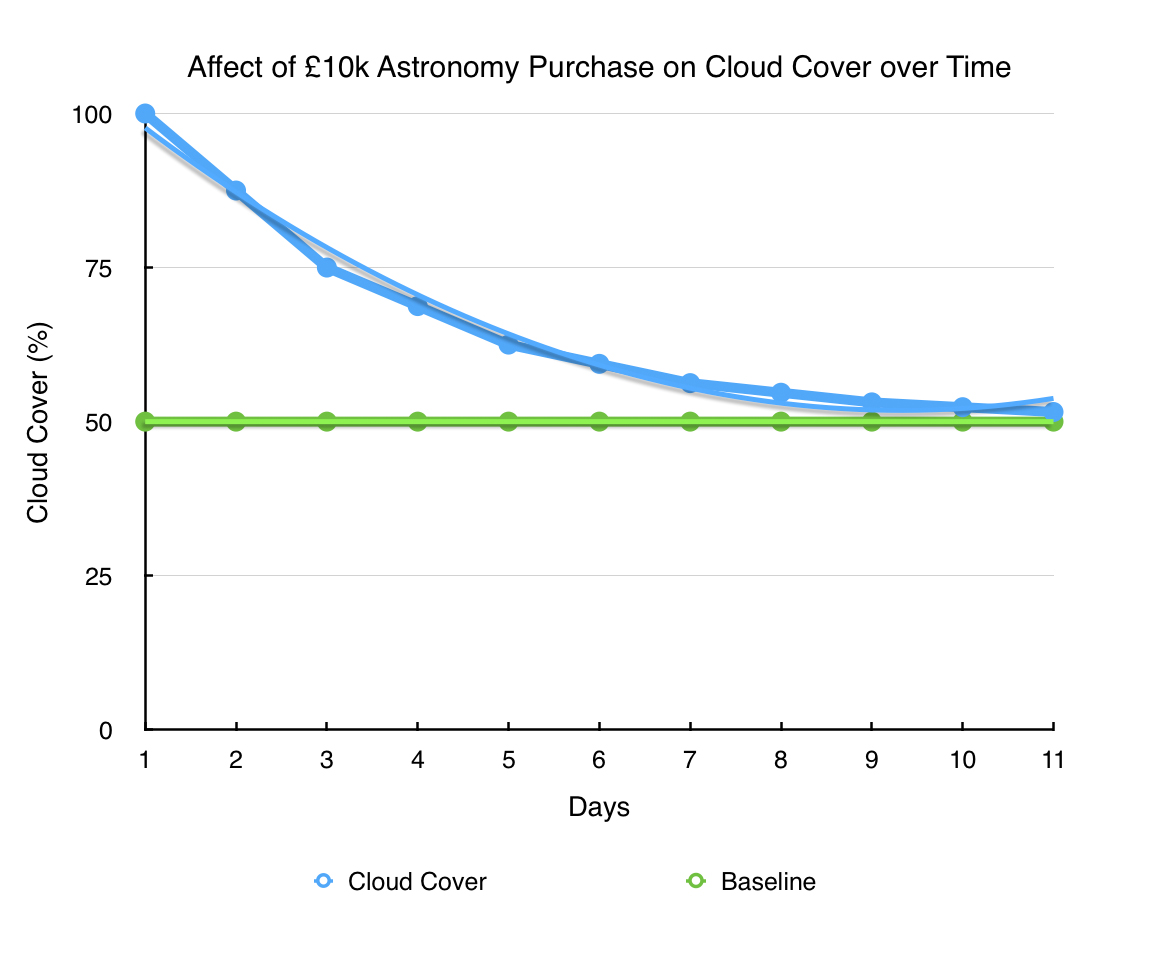 It typically takes up to 11 days for cloud cover levels to return to baseline based on a £10k astro purchase.
Clear Outside Forecasts
The correlation is so clear we have decided to integrate our astronomy sales data into our Clear Outside forecasting models. We are developing an update for Clear Outside that will display the affects of nearby astronomy purchases, taking into account when the purchase was made, the size of the purchase and the distance from your location.
An example of how the forecast will display: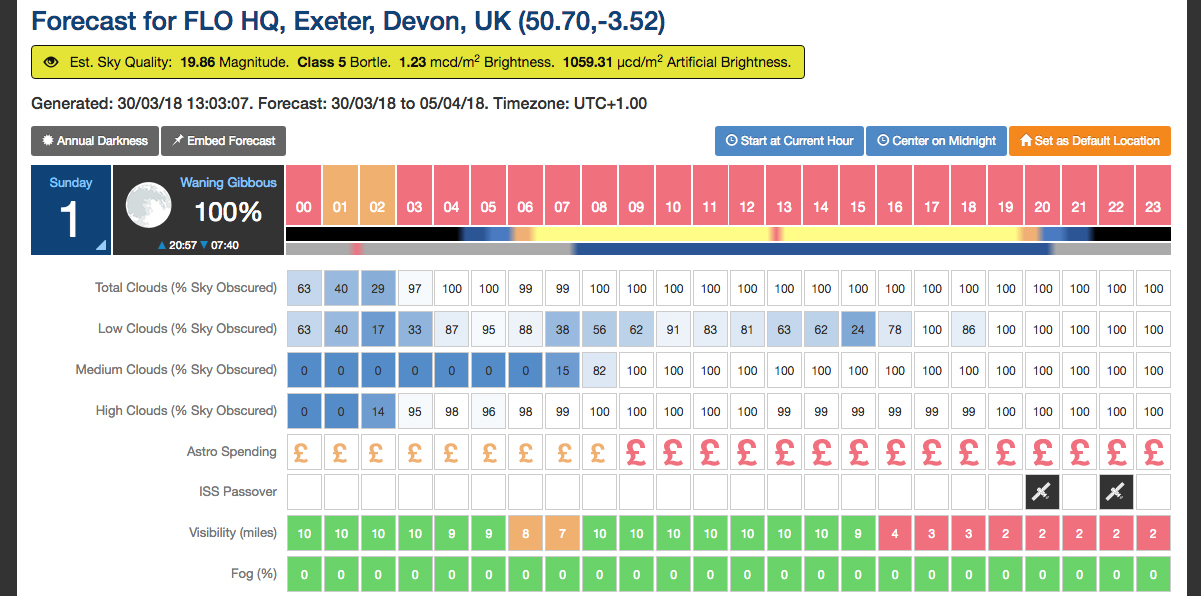 The orange £ indicates a smaller purchase made locally a few days ago, it's affect diminishes until 09:00 when an EQ8 mount and Esprit telescope was delivered to a fellow astronomer nearby. Unfortunately the larger purchase has significantly reduced the likelihood of clear skies for days to come!
Positive Steps
We will continue monitoring our deliveries of astronomy equipment and the affect they have on cloud cover to improve the accuracy of Clear Outside weather forecasts.
Purchases made at FLO will automatically be integrated into Clear Outside weather forecasts and we are inviting other astronomy retailers to share their sales data with us. More sales data will further enhance the accuracy and usefulness of Clear Outside forecasts.
If you belong to an astronomy society we recommend you discuss your purchase plans with other members, particularly around the time new products are launched, so purchases can be staggered over several days. Consider also placing any unusually large orders during the summer months when fellow astronomers are less likely to be observing.
Working together we can reduce the 'New Kit Paradox' effect and enjoy more cloud free skies.