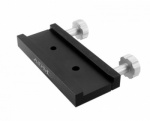 ADM Vixen-style SaddleFrom: £66.00
Now available to suit Skywatcher SkyTee-II Alt-Azimuth mount.
This ADM Vixen-type saddle provides an extremely solid locking surface with maximum contact along the entire length of the saddle. Stainless steel guide pins and spring-loaded design maintains the proper dovetail angles.
Manufactured from black-anodized 6061 aluminium and stainless steel.
Can be fitted to ADM Vixen and Losmandy-type Universal Dovetail bars.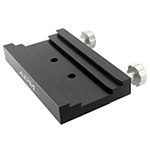 ADM Dual Saddle Upgrade for HEQ5, NEQ6, AVX & ZEQ/iOptronFrom: £132.00
The original and BEST dual saddle.
Replace your standard Skywatcher HEQ5, EQ6/NEQ6, AZ-EQ6 or Celestron AVX saddle with a dual-saddle device that enables both the popular Vixen (Skywatcher/Celestron) and Losmandy type dovetails to be mounted directly to the mount.
Manufactured from premium quality black-anodized 6061 aluminium and stainless steel.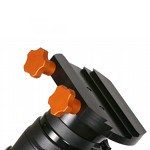 ADM Dual Saddle upgrade for Celestron CGEM mount£149.00
The ADM CGEM DUAL saddle is bigger and wider than ADM's regular DUAL saddles and includes a replacement collar. Enables Celestron CGEM owners to attach Losmandy-type or the smaller Vixen-type (Vixen, Skywatcher and Celestron) dovetails to their mount.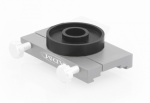 ADM Replacement Puck£42.00
Replacement CNC machined and anodised puck.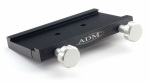 ADM D Series Saddle (without puck)£89.00
ADM D series saddle (without Puck) featuring 2x counterbores for 1/4 socket head cap screws.