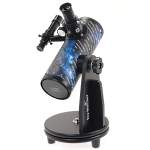 Skywatcher Heritage-76 Mini Dobsonian£47.00
'International Year of Astronomy Special Edition'
The Sky-Watcher Heritage-76 has been specially designed to celebrate the International Year of Astronomy (IYA) and the 400th Anniversary of Galileo's first telescope.
This is not only a functional optical instrument but also an ideal gift for the younger astronomer aged 5-10 years.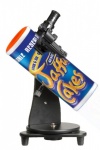 Heritage-100P Special 'Jaffa Cake' Edition£89.00
This new Special Edition Sky-Watcher Heritage-100p 'Jaffa Cake' is exclusive to First Light Optics and available only in limited quantities.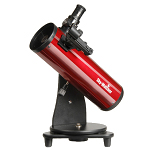 Skywatcher Heritage-100P£95.00
An excellent introduction to astronomy and the BEST <£100 telescope available.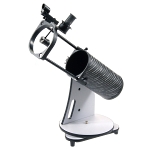 Skywatcher Heritage-130p Flextube£137.00
Housing the same Parabolic Primary Mirror-set as the highly-acclaimed Explorer-130P, this telescope is an excellent introduction to astronomy that will provide wonderful views of the Moon, planets and the brighter Deep-Sky Objects.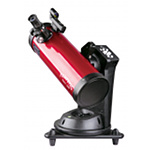 Skywatcher Heritage-114p Virtuoso£179.00
Excellent first telescope or lifestyle gift!
The Skywatcher Heritage-114p features the same 4.5" parabolic mirror-set as the hugely successful Skywatcher 1145p Newtonian telescope so is an excellent all-round choice for back garden astronomy.